February 9, 2018

Zip Code Marketing the free local marketing research tool for Windows & Mac OS X.
Looking to speed your local marketing efforts? Research and find local markets quick!
The free Zip Code Marketer is a free and simple to use local marketing tool. Just input your search criteria and get instant results.
Find new markets by searching for partial or full zip codes, county names, town names. Thousands of records at your command, searched in seconds.  Over 40000 records in fact! Export your results as CSV and text files, unlimited searches and exports.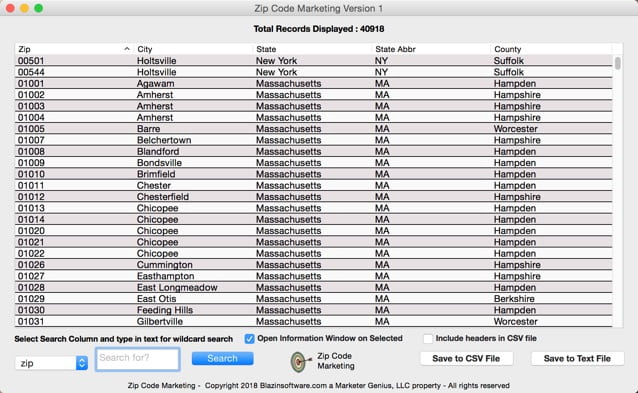 Zip Code Marketing for PC & Mac is lightning fast and easy to use.

The Free Zip Code Marketing application is the perfect tool for researchers and marketers alike. Get demographics and other vital data from Wikipedia and City Data in mere clicks. Stir up some brainstorming by learning more about your market.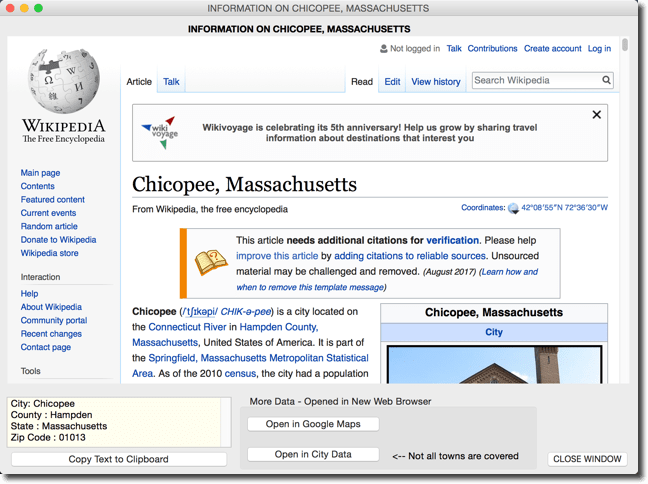 Want all the zip codes for New York… Done
Want all the towns in Texas… Done
Want all the zip codes that has 902 in them… Done
Don't pay $100's for zip code research software, Zip Code Marketing is COMPLETELY FREE with unlimited usage, no subscription required. A must have for anyone doing local marketing.
ZIP CODE MARKETING FEATURES:
Unlimited usage, completely free for all your research & local marketing needs
Research local markets by city,zip,state and county
Reverse zip code look-ups even by partial searches
Instant Wikipedia, Google Maps and City Data information pulls
Cross-platform. Mac & Windows versions are feature complete.
Native code, no Java, Flash or Air, 100% OS native code!


Windows Compatibility: Works with Windows 7, Vista, 8, Windows 10, Server 2008, Server 2012, Server 2016. 4 gigs ram recommended.


Mac Compatibility: Mac OS X 10.9 & newer: Mavericks, Yosemite, El Captian, Sierra, High Sierra. 4 gigs ram recommended.
FAQ's
Yes, Zip Code Marketing requires Internet Access to operate. It checks for updates on start-up and the online information research requires Internet to function.
Please allow Zip Code Marketing to access the Internet if you have a firewall. Only outgoing connections are required to operate.